By Charlie |
14
October 2022 |
0
Comments
Cargo Lashing System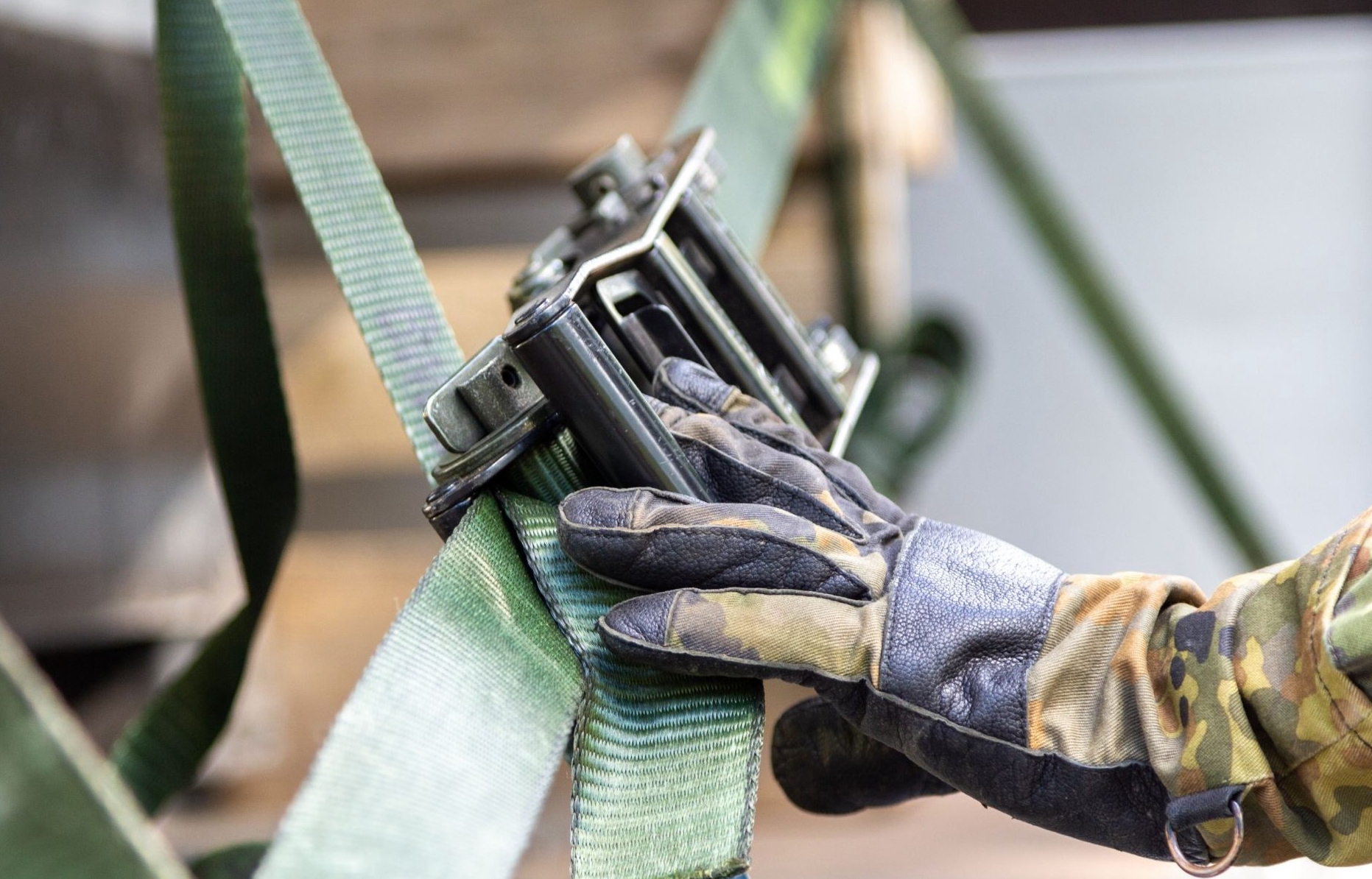 Ratchet tie down straps (also called lashing straps or tie downs) are fasteners used to hold down cargo or equipment during transport. Tie down straps are essentially webbing that is outfitted with tie down hardware. This hardware allows the tie down strap to attach to the area surrounding the cargo or equipment, loop over the cargo or equipment, and/or attach to the cargo or equipment. It usually also includes a method of tensioning the strap, such as a ratchet.

Two common types of ratchet tie down straps are loop straps and two-piece straps. Loop straps, like their name implies, are a single piece of webbing that is looped around the item to be protected and the two endpoints are brought together at the tie down fastener for fastening and providing tension.Two-piece tie down straps are a single assembly that is constructed out of two separate pieces of webbing each with their own hardware that are fastened at one end to the area surrounding the equipment to be protected and connect to each other, typically at the fastener.
Designed to be attached to the lashing points in order to secure the cargo during transportation, moving, shipping and storage.
Flexible and durable lashings made of high strength polyester strap and steel ratchets, with or without end fittings.
Extremely quick and efficient tie down and release of load.
It is less damaging on contacting cargo surfaces than lashing chains.
Ratchet straps are available in various lashing capacities, lengths and configurations.
Standard: EN 12195-2
Option: Cr6 free galvanized ratchet buckle and end fittings.
25MM/0.5T CAM TIE DOWN
 
Item No.
Length (m)
End Fitting
LC (daN)
MBS (kg)
Product Code
RTD2505SK
0.4 + 4.6
S Hook
250
500
401002501
RTD2505DJ
0.4 + 4.6
Double J Hook
250
500
401002502
RTD2505CK
0.4 + 4.6
Claw Hook
250
500
401002503
RTD2505TG
0.4 + 4.6
Triangle
250
500
401002504
25MM/0.8T/1T RATCHET TIE DOWN
 
Item No.
Length (m)
End Fitting
LC (daN)
MBS (kg)
Product Code
RTD2508SK
0.4 + 4.6
S Hook
400
800
401002505
RTD2510SK
500
1000
401002506
RTD2508DJ
0.4 + 4.6
Double J Hook
400
800
401002507
RTD2510DJ
500
1000
401002508
RTD2508CK
0.4 + 4.6
Claw Hook
400
800
401002509
RTD2510CK
500
1000
401002510
RTD2508TG
0.4 + 4.6
Triangle
400
800
401002511
RTD2510TG
500
1000
401002512
28MM/1.5T RATCHET TIE DOWN
 
Item No.
Length (m)
End Fitting
LC (daN)
MBS (kg)
Product Code
RTD2815DJ
0.5 + 4.5
Double J Hook
750
1500
401002801
RTD2815CK
0.5 + 4.5
Claw Hook
750
1500
401002802
RTD2815TG
0.5 + 4.5
Triangle
750
1500
401002803
35MM/2T RATCHET TIE DOWN
 
Item No.
Length (m)
End Fitting
LC (daN)
MBS (kg)
Product Code
RTD3520DJ
0.5 + 5.5
Double J Hook
1000
2000
401003501
RTD3520SJ
0.5 + 5.5
Single J Hook
1000
2000
401003502
RTD3520CK
0.5 + 5.5
Claw Hook
1000
2000
401003503
RTD3520TG
0.5 + 5.5
Triangle
1000
2000
401003504
35MM/2.5/3T RATCHET TIE DOWN
 
Item No.
Length (m)
End Fitting
LC (daN)
MBS (kg)
Product Code
RTD3525DJ
0.5 + 5.5
Double J Hook
1250
2500
401003505
RTD3530DJ
1500
3000
401003506
RTD3525SJ
0.5 + 5.5
Single J Hook
1250
2500
401003507
RTD3530SJ
1500
3000
401003508
RTD3525CK
0.5 + 5.5
Claw Hook
1250
2500
401003509
RTD3530CK
1500
3000
401003510
RTD3525TG
0.5 + 5.5
Triangle
1250
2500
401003511
RTD3530TG
1500
3000
401003512
50MM/4T/5T RATCHET TIE DOWN
 
Item No.
Length (m)
End Fitting
LC (daN)
MBS (kg)
Product Code
RTD5040DJ
0.5 + 9.5
Double J Hook
2000
4000
401005001
RTD5050DJ
2500
5000
401005002
RTD5040CK
0.5 + 9.5
Claw Hook
2000
4000
401005003
RTD5050CK
2500
5000
401005004
RTD5040TS
0.5 + 9.5
Twisted Snap Hook
2000
4000
401005005
RTD5050TS
2500
5000
401005006
RTD5040FS
0.5 + 9.5
Flat Snap Hook
2000
4000
401005007
RTD5050FS
2500
5000
401005008
RTD5040JK
0.5 + 9.5
Double J Hook With Keeper
2000
4000
401005009
RTD5050JK
2500
5000
401005010
RTD5040SJ
0.5 + 9.5
Single J Hook
2000
4000
401005011
RTD5050SJ
2500
5000
401005012
RTD5040FT
0.5 + 9.5
Forged Hook With Triangle
2000
4000
401005013
RTD5050FT
2500
5000
401005014
RTD5040TG
0.5 + 9.5
Triangle
2000
4000
401005015
RTD5050TG
2500
5000
401005016
50MM/4T/5T ERGO RATCHET TIE DOWN
 
Item No.
Length (m)
End Fitting
LC (daN)
MBS (kg)
Product Code
ERTD5040DJ
0.5 + 9.5
Double J Hook
2000
4000
401005017
ERTD5050DJ
2500
5000
401005018
ERTD5040CK
0.5 + 9.5
Claw Hook
2000
4000
401005019
ERTD5050CK
2500
5000
401005020
75MM/10T RATCHET TIE DOWN
 
Item No.
Length (m)
End Fitting
LC (daN)
MBS (kg)
Product Code
RTD75100DJ
0.5 + 9.5
Double J Hook
5000
10000
401007501
RTD75100CK
0.5 + 9.5
Claw Hook
5000
10000
401007502
Leave a Reply
Your email address will not be published.Required fields are marked. *